Shipping Info Policy
Please review our shipping policies carefully, including timeframes, weather-related risk of damage, and costs. We strongly recommend shipping to a business address whenever possible to facilitate delivery of your purchase. 
Wine Club Shipments: 
Wine club shipments are processed in the Spring and Fall. We will send out a notification email at least 1 week prior to our shipping date. All club selection changes must be made before the order is processed. This includes changing the wine selections or skipping the shipment. If the order has not been shipped we may still cancel the order, however, there will be a restocking fee of 5% of the order value. Any orders that have already been shipped will not be able to be refunded. Please ensure your membership email is current. 
Summer Shipping Policy: 
During periods of extreme temperatures we will delay your wine shipment to protect the quality of the wine. Any area that is experiencing temperatures of 85F or more for prolonged periods will have their wine shipment delayed until weather conditions permit safely shipping. We will monitor the weather frequently, but for many states we will have to wait until September/October before the weather conditions cool down enough to safely ship. If you would like to have the wines shipped during this period, please review the information below.
If you decide to have the wine shipped during a period of extreme temperature, we are not liable for replacing any wines that are compromised or damaged in transit due to extreme temperatures. Ice packs will be available to add to each order. We strongly recommend ice packs to be added for any order being shipped during the summer months and that the shipping be upgraded to two-day if it is outside of the 1-2 day transit area. Expedited shipping will be provided for those states that are outside of our 1-2 day transit time from our shipping center in Illinois (Please see map below). Again, using these options will not guarantee that the wines are not damaged in transit, but they will help mitigate the risks. Please email us at info@gambinowinery.com if you have any questions.
Ice Packs: 
We recommend adding 1 ice-pack for 6 bottles and 2 ice-packs for any order with 12 or more bottles.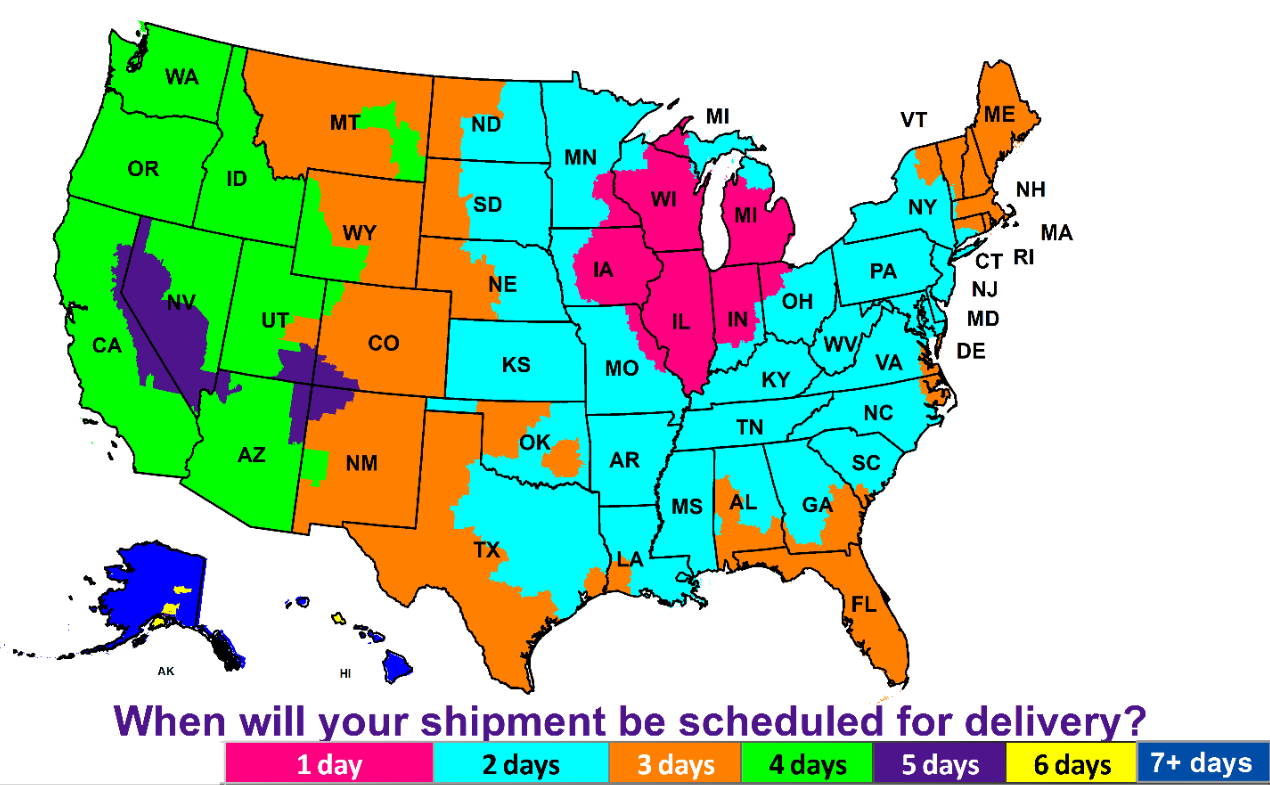 Standard Shipping Policy: 
Orders typically processed and shipped within 3-5 business days of receipt barring any weather delays. Our standard shipping method is ground, however, we will provide expedited shipping services during the summer months (see summer shipping policy above). 
All wine shipments require an adult signature of someone 21 years or older for delivery. We always recommend that wine shipments are sent to a business address if possible. We cannot ship to the following states: HI, AK, AL, MS, & UT
Shipping Returns: 
FedEx/UPS will make 3 delivery attempts before returning the package back to our warehouse. Orders returned to Wanderlust Wines are subject to a restocking fee. Wanderlust Wines is not responsible for additional shipping charges to resend packages that are returned due to missed delivery attempts.
Damaged Items: 
If you received a broken wine bottle upon delivery, please contact us at info@gambinowinery.com and we will work with you to resolve the issue.
Age Of Consent: 
By using this site, you represent that you are at least 21 years or older. By accepting these terms of service you affirm that you are at least 21 years of age and that any wine you purchase through our site will be shipped to and signed for by a person of 21 years or older.
Mailing Address: 
Our mailing address is PO Box 80892 Portland, OR 97239